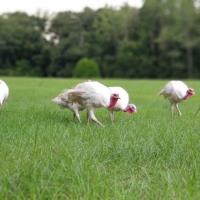 Amanda McKillop Homestead
, ,
Email Address: ammckillop@gmail.com
Phone: 352-348-1956
About Us
Amanda raises turkeys on her homestead with her family "Family Farm". We are a family of seven committed to sustainable, organic methods. We raise chickens, turkeys, sheep, and pigs in High Springs, Florida. Our turkeys are given free range of our acreage as soon as they are big enough (and rotated on grass in a mobile tractor until they are big enough). We feed them a minimal amount of organic feed in the evenings. During the day, they forage for bugs and grasses. Because we are committed to not housing more animals than our pastures can sustain, they were provided with plenty of fresh, green grass and as many bugs as they could catch. These birds are 100% organic and pastured.
Practices
Our turkeys are on grass from the very beginning. They coop in a "tractor" for the first weeks when they are too small to free range. We move the tractor regularly to new grass. Now that they are big enough, we let them out to free range on our five acres of organic farmland. They are supplemented in the evening with organic feed from Countryside Organics.